Bayer Becker is proud to announce the addition of four members to our associate leadership team. Nick Hamberg, Bryan Scheck, John Bayer, and Janet Heil join the current team of three associates; Katie Dillenburger, Brian Johnson, and John Cody. President Jay Bayer made the announcement Thursday, February 27th, adding "These highly talented individuals have demonstrated they are driven by a purpose greater than themselves".
Nick Hamberg, P.E., is a professional civil engineer in the Fort Mitchell office. Nick designs for private and public engineering projects, including retail, office, civic, recreation, industrial, and residential development, including Rivers Pointe Estates & Sanctuary Village. He assists clients with project management throughout the design, bidding, permitting and construction of projects. He is an active leader in the mentorship of co-ops and with the firm's continuous improvement efforts, advancing Civil3D processes and standards. Nick also currently serves as a director on the board for the Northern Kentucky Society of Professional Engineers (NKSPE).
Bryan Scheck, P.E., joined Bayer Becker in 2014 as a member of the civil engineering team in the Mason office until the fall of 2016, when he moved to the firm's Over-The-Rhine office. Bryan's project experience includes public and private designs on residential, mixed use, retail and educational facility projects in Ohio's Butler, Warren, Clermont, and Hamilton counties. Additionally, Bryan has been a part of the firm's internal workflow improvement team and has been the leader of the firm's health and wellness initiatives for the past four years.
John Bayer, E.I., is the third generation of the Bayer family to join the leadership team. While involved in the firm for many years, he joined full-time in 2017 in the Mason, Ohio office. John's focus is in the civil engineering department, assisting with project management and design. John excels at site design and grading, utility design including stormwater management and earthwork analysis. John is also involved in the surveying department where he assists with the development and implementation of aerial mapping systems and new technologies. Additionally, he has been an active member of the health & wellness committee within the firm.
Janet Heil joined the firm as Marketing Manager in 2016, where she is responsible for all things marketing and business development. She is always working to champion the brand, be a voice for clients, and provide industry insight. Janet serves on the Board of Directors for the Society for Marketing Professional Services (SMPS) in charge of Programs and is Chair for Commercial Real Estate Women (CREW) Communications Committee. She also serves on the UC Clermont Advisory Council for Marketing and was a graduate of the Cincinnati Chamber's C-Change class of 2018.
Bayer Becker offers integrated professional design consulting services, including civil engineering, transportation engineering, land surveying, geovisualization, landscape architecture and planning in Greater Cincinnati. Founded in 1967, the firm has offices in Mason, Over-The-Rhine, Ft. Mitchell, and Oxford. It ranks 17th on the Cincinnati Business Courier's list of top engineering firms with 2019 local billing of $9.4 million.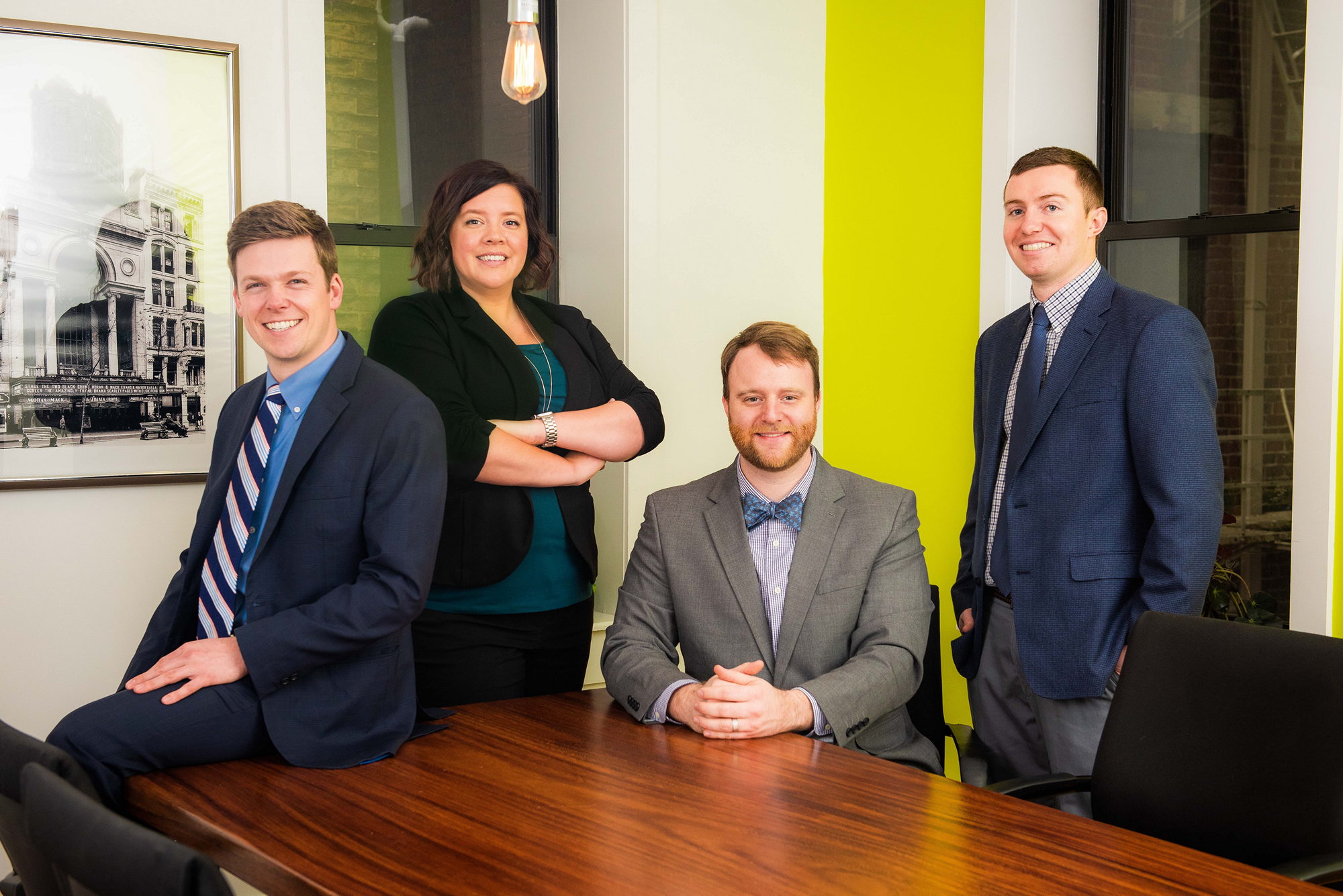 Photo (L to R): John Bayer, Janet Heil, Bryan Scheck, Nick Hamberg