Bayer Becker's Land Development Expertise Helped Bring The Liberty Center to Life!

Located in Liberty Township, Ohio, the Liberty Center is a 64 acre premier mixed use destination featuring:

1.3 million square feet of retail, dining and entertainment

75,000 square feet of Class A Office

100,000 square feet of restaurant and dining

240,000 square feet of residential space

Check out our video from the grand opening!

Where Creativity Met Functionality

Unique water management design maximizes space and reuses runoff in various portions of the project.

Design for phase I included the potential for future expansion and off-site improvements including traffic and utilities.

Additional transportation services included improvements to the I-75 and SR 129 entrances including lane additions, and re-striping and traffic control on Liberty Way.

Project Management Delivered

Bayer Becker assisted with site and building permitting, including special permits for overall site, roadway lighting, and building utility services.

Prior to construction, stream evaluation and mitigation services ensured maximum site utilization for the project.

Interdisciplinary Collaboration

Design coordination with multiple out of town consultants accounted for changes in the built environment throughout construction helping the project stay on schedule.

Services Provided:

Civil Engineering

Land Surveying

Transportation Engineering

Click here for more information on the Liberty Center.
Founded in 1968, Bayer Becker is a professional design consulting firm of 65 professionals offering integrated Civil Engineering, Transportation Engineering, Land Planning, Landscape Architecture, and Land Surveying services.
Bayer Becker operates 4 offices in Ohio and Kentucky.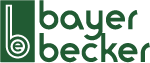 Where Creativity Meets Functionality