Integrity - Quality - Service - Continuous Improvement
For four decades the Bayer Becker name has been recognized as a leader in quality design services throughout the Cincinnati Tri-State area (OH/KY/IN). The Bayer Becker tradition began in 1967, when Joseph B. Bayer left his post as City Engineer of Hamilton, Ohio to form Bayer Engineering operating in Fairfield, Ohio.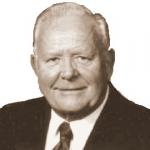 Joseph B. Bayer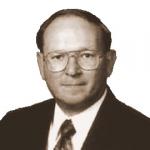 Keith R. "Sandy" Becker
Joe's first employee, Keith R. "Sandy" Becker, joined the firm and the roots of Bayer Becker Engineers were formed. Both were professional civil engineers and land surveyors and founded the firm on basic business principles: the highest integrity, practical know-how, quality in their work, and service to their clients.
As the firm has grown, it has never lost sight of those original business philosophies. The company has grown steadily since inception, specializing in public infrastructure and private sector land development. From our roots in engineering and surveying we have expanded the services that we offer to meet the needs of our public and private clients. These services have grown to include land planning, landscape architecture, and transportation engineering. With the addition of these services, we have modified the name of the firm to Bayer Becker to more accurately reflect the "one stop shopping" concept, making it easier for our clients to coordinate and successfully complete their projects.
Bayer Becker has developed an outstanding reputation in the following markets: Public Infrastructure: Government - Municipal, Roadway, Storm Water, Traffic, Waste Water, Water Supply, Education, Healthcare, Industrial, Mixed Use, Office, Recreation, Residential, and Retail.
In addition to broadening our skills, we have also expanded the geographic area that we serve to meet the needs of our growing client base. Offices have been strategically positioned in Northern Kentucky; Mason, Ohio Cincinnati, Ohio, and Oxford, Ohio and to establish a multi-state presence in the Cincinnati Tri-State region. This allows Bayer Becker to capitalize on the personal relationships we have established in each of those areas.
Throughout our history we have taken great pride in our technical ability. Beyond our formal classroom training and advanced degrees, Bayer Becker has created an environment of learning and continuous improvement. With the latest in technical equipment and software both in the office and the field, we strive to stay near the cutting edge of technology.
We continue to approach our business the way our clients approach their own: to win. We have a reputation of success, a clear vision of who we are, where we're going and how to deliver results to our clients. We look to the future and continue the tradition of problem solving and value-added consulting started by Joseph Bayer and Sandy Becker, over 50 years ago.