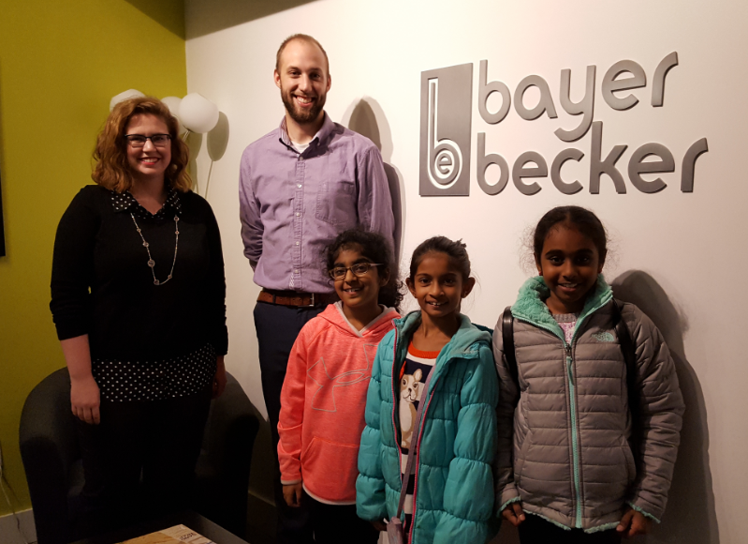 Bayer Becker recently took some time to coach and educate a team of local 5th graders about the impacts of various landscape architecture strategies unique to roadways. The team, calling themselves the "Brick Girls," reached out to the Landscape Architecture and Planning group in Over-The-Rhine to gather research for the engineering innovation-based challenge, the FIRST® LEGO® League Competition.
This year's topic for the program was called "Animal Allies." The Brick Girls, Tanvi Mayya, Anya Mehta, Maria Kogan, Priyanka Anoop, and Arushi Gupta were challenged to identify a specific problem that occurs when people and animals interact and to design a solution that makes the interaction better for animals, people, or both.
The Brick Girls chose to address the drastic decrease in bee populations, a problem that has a major impact on both humans and the environment. The group focused on bee habitat destruction and the subsequent decrease in bee populations as a result of an increasing human population. While the girls wanted to promote bee population growth, they were careful to take into consideration that excessive bee populations could be considered a nuisance in residential areas. The solution that they proposed entailed creating a drone that disperses wildflower seeds along the areas of highways that are not populated, fostering bee population development. Their product is called "Bee Happy." The Brick Girls and their Bee Happy idea won second place in the local competition and will move on to the District competition on January 21, 2017.
About FIRST®
FIRST® (For Inspiration and Recognition of Science and Technology) was founded in 1989 to inspire young people's interest and participation in science and technology. Based in Manchester, NH, the 501(c)(3) not-for-profit public charity designs accessible, innovative programs that motivate young people to pursue education and career opportunities in science, technology, engineering, and math, while building self-confidence, knowledge, and life skills. The Brick Girls are competing in the FIRST®LEGO® League Competition, which has elementary and middle school-aged students research a real-world engineering challenge, develop a solution, and compete with LEGO-based robots of their own design. They have already competed in the local competition and placed in 2nd and are now looking forward to the district competition on January 21st.
About Bayer Becker
Bayer Becker's Landscape Architecture & Planning Department (LA+P) has developed a design tradition that enhances the connections between a community and its ecological surroundings, culture, history, and vision for the future. From our principals to our staff, Bayer Becker LA+P design professionals embrace ecological stewardship and leverage a wide range of interests and experiences to continually improve the quality of our urban, ecological, and social environments.
--
Royce Louden
Marketing Co-op
Bayer Becker