In Bayer Becker's transportation engineering group, rule one is to recognize that all projects are unique. Every transportation issue develops over time, over decades of changing standards and new development, and each varies from one roadway segment to the next. Bayer Becker keeps that in mind, tailoring planning and engineering solutions to each project. We follow industry accepted standards and requirements but understand that when exceptions are appropriate and needed, we must be flexible enough to adapt to the requirements and conditions of the specific project.
Barbara Drees Jones, marketing vice president for the Drees Co., was installed Friday as the 2010 president of the Home Builders Association of Northern Kentucky Home Builders Association of Northern KentuckyLatest from The Business Journals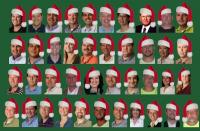 "With appreciation for your friendship and business, we wish you peace, joy, hope and happiness; and the warmest wishes for a Merry Christmas and a happy, healthy, and prosperous New Year." 

"I have rarely been involved in such a complex project that was completed with so few construction issues or complaint calls from affected property owners, demonstrating the quality of the plans. It has been a pleasure working with Bayer Becker's knowledgeable and professional staff. Bayer Becker has proven their ability to a design complex transportation solution. I look forward to working with them in the future."

Anchor Health Properties and St. Elizabeth Medical Center turned to Bayer Becker to provide design services for the new St. Elizabeth Medical Center in Covington, Kentucky. St. Elizabeth Covington is a re-development project along I-75 and includes a three-story building with approximately 120,000 square feet of space which include medical offices on the upper floors and a 10,500 SF emergency department on the ground floor along with outpatient services such as imaging, dialysis and rehab programs.
Pages